New Linx yellow bottling ink
April 18th, 2021 Posted by Coding Canada Team
Linx Printing Technologies has launched its new Linx Yellow bottling ink 1088. Ink meet the demand of customers for a high contrast code on dark coloured bottles. These bottles are usually arriving from the marketplace. They are undergoing cleaning by a caustic wash process. It is typically used for returnable bottles, before refilling and coding.
The new fast-drying ink provides excellent adhesion on glass. It also withstand the manufacturing process, packaging and condensation. The ink delivers clear, legible codes onto glass and keeps adhesion in cold-room condensation conditions. There is no compromise on the quality of the code. The ink delivers high-quality, durable coding. So customers can meet the regulations and protect their brands.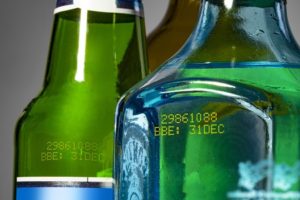 The new ink is also suitable for a weak caustic wash process to remove codes on steel, nylon and PET kegs and barrels.
"We are delighted to introduce this new ink which complements the Linx Black bottling ink 1068 launched in 2018." said Simon Millett, Linx Product Manager for Inks. "Due to the ink's fast dry properties, the printed code resists refrigerator storage and immersion in water. It is ideal for beverage applications like beer and soft drinks. Ink providing a high contrast code on dark brown and green bottles. Also the new Linx Yellow bottling ink 1088 is suitable when a more unobtrusive code is needed on clear glass bottles."
Find more about Linx 1088 ink. Please call us at (866) 427-5701 or e-mail us at sales@codingcanada.com.
We invite you to subscribe to our blog to stay informed about the latest developments in product coding & marking.